Comic Rob Kemp has picked up three trophies at the Midlands Comedy Awards. He wins Breakthrough Act, Best Alternative Act and Best Live Show. Kemp dominated the list of nominees this year, getting recognised in six of the ten categories, mainly due the success of his hit Elvis Dead show. Kemp is the first act to win three awards in the same year.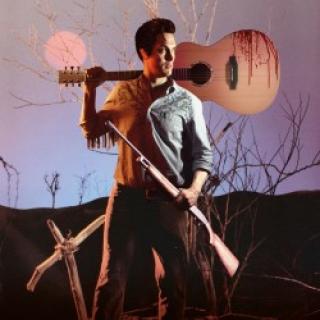 Also enjoying unprecedented success was Notts-based Barry Dodds, who picked up the Best MC trophy for the third year in a row, edging out Coronation Street actor Gareth Berliner in a repeat of last year's result.
The Best Act award went to Birmingham's Joe Lycett, with Luisa Omielan and Rob Kemp as runners-up. The Best New Act prize was won by Nottingham University student Jem Braithwaite, while the Online Comedy award went to Jack Kirwan from the Black Country.
The Glee Club won Best Comedy Club, while the Best Small Club went to Funhouse Comedy which runs shows at venues across the Midlands. The creator of Funhouse Comedy Spiky Mike was also recognised for his efforts with this year's the Outstanding Contribution award. Finally, the Best Open Mic Show trophy went to The Holly Bush in Cradley Heath, which hosts both a weekly new material night and Bushfest, billed as the "World's Smallest Comedy Festival", every summer where many acts preview their Edinburgh Fringe shows.  
Finalists for the awards were decided by promoters and performers from the Midlands comedy community, with more than 4000 votes cast in a public ballot to decide the winners.
Creator of the awards, Jay Islaam, commented: "I'd like to congratulate all the finalists and the winners. This was obviously going to be Rob Kemp's year. He's an exceptionally nice guy and the Midlands comedy community is delighted with his success in 2017, so it was inevitable they'd want to recognise that at the awards tonight. There's also clearly great admiration for Barry Dodds too, as he's won Best MC three years on the trot now.
"This is the fourth year of the Midlands Comedy Awards and the love and support from the regional comedy community for this initiative is wonderful to see. More than 4000 votes were cast this time around, and the competition was fierce across the categories. However, it's great to see so many people celebrating the success of their peers so enthusiastically." 
The Midlands Comedy Awards gala was held in Leicester this year at The Cookie, which also hosts regular comedy nights. The show was compered by Barry Dodds and featured performances by a dozen finalist, on the theme of "comedy heroes", with each act doing an onstage pastiche of their favourite comedians.
Click here for the full list of winners
BEST ACT:
Winner: Joe Lycett
Runner-up: Luisa Omielan
Third: Rob Kemp
BEST MC:
Winner: Barry Dodds
Runner-up: Gareth Berliner
Third: Stevie Gray
BREAKTHROUGH ACT
Winner: Rob Kemp
Runner-up: Pete Teckman
Joint third: Jack Kirwan and Sarah Johnson
BEST NEW ACT
Winner: Jem Braithwaite
Runner-up: Gina Overton
Third: Count Evil
BEST ALTERNATIVE ACT
Winner: Rob Kemp
Runner-up: Jack Kirwan
Third: Andrew McBurney
BEST LIVE SHOW
Winner: Rob Kemp
Runner-up: Josh Pugh
Third: Phil Pagett
ONLINE COMEDY
Winner: Jack Kirwan
Runner-up: Masai Graham
Third: Craig Deeley
BEST COMEDY CLUB
Winner: The Glee Club
Runner-up: Funhouse Comedy
Third: Laff Attack
BEST SMALL CLUB
Winner: Funhouse Comedy
Runner-up: FAF Comedy
Joint third: CAN Comedy and Blue Giraffe
BEST OPEN MIC SHOW
Winner: The Holly Bush (Cradley Heath)
Runner-up: Comedy and Cocktails (Leicester)
Third: NCF £1 Night (Nottingham)
OUTSTANDING CONTRIBUTION
Spiky Mike